VMS Guidance Gate:
The VMS Guidance Gate is a useful tool for guiding cows and heifers quietly in the VMS. This tool is a welcome addition during milking, but also during everyday use of the VMS and provides a lot of work convenience and enjoyment. With the help of the fence, one person (alone) is able to teach new cows and heifers how to use the VMS. But it is also a useful aid if there are cows that need to be milked with priority, such as lame or in heat. Just behind the fence and you know for sure that no bossy cow can crawl in front of it.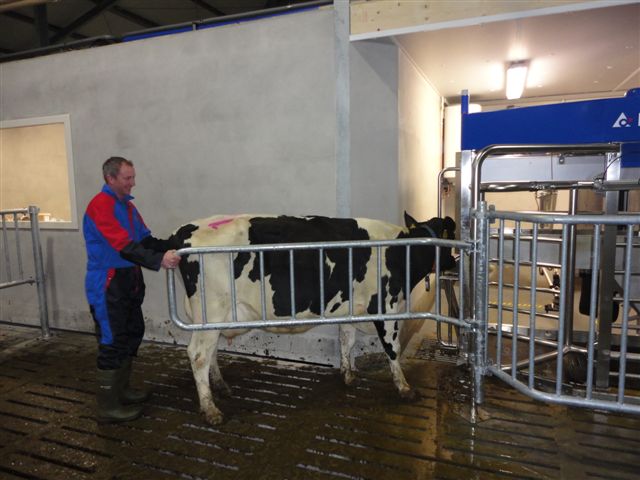 The gate can be mounted on any (existing) VMS without welding and grinding. With the help of the universal joints, the height can be variably adjusted, according to the wishes of the farmer or the size of the cows. The construction is made of thick-walled tube and fully hot-dip galvanized.
After use, the gate folds back completely along the existing bar fence, taking up minimal space. Securing to the bar fence is possible with a drop closure.
For more information: prices, delivery costs and assembly, more photos, or orders, please contact Gregor Gross Bolting, tel. 06 13 15 75 95 or grossbolting@planet.nl