VMS Begeleidingspoort:
De VMS Begeleidingspoort is een handig hulpmiddel om koeien en vaarzen rustig in de VMS te begeleiden. Tijdens het inmelken, maar ook bij het alledaagse gebruik van de VMS is dit hulpmiddel een welkome aanvulling en zorgt voor veel arbeids- gemak en plezier. Met behulp van het hek is één persoon (alleen) in staat om nieuwe koeien en vaarzen het gebruik van de VMS te leren. Maar het is ook een handig hulpmiddel, als er koeien zijn die met voorrang gemolken moeten worden, bijvoorbeeld kreupele of tochtige koeien. Even het hek erachter en je weet zeker dat er geen bazige koe meer voor kan kruipen.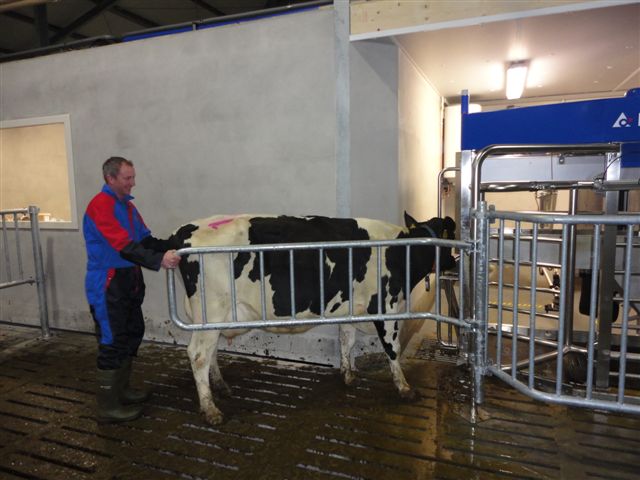 Het hek kan zonder las- en slijpwerk aan elke (bestaande) VMS gemonteerd worden. Met behulp van de kruiskoppelingen is de hoogte variabel af te stellen, al naar wens van de veehouder, of grootte van de koeien. De constructie is van dikwandige buis gemaakt en volledig thermisch verzinkt.
Na gebruik klapt het hek volledig terug langs het bestaande spijlenhek, en neemt zo minimaal ruimte in beslag. Borging aan het spijlenhek is mogelijk met een valsluiting.
Voor meer informatie: prijzen, bezorgkosten en montage, meer foto's, of bestellingen neemt U kontact op met Gregor Gross Bolting, tel. 06 13 15 75 95 of grossbolting@planet.nl